WL Finals – 7.3.15 Action Sports Stadium (ASS)
By Kris Bayne
DING! DING! DING! DINNNNGG! In the left corner, Chiba Sharks – annual indoor powerhouse and looking to add to their four consecutive Indoor Crowns. In the right corner, Rising Stars – many experienced as Sharks but united as Brothers of Bangladesh. These were the two standout teams in the Winter League in 2015. It was no surprise that they would end up squaring off in the finals. In four games over the winter, the score stood at 2-2. A 'best of three' finals series would decide the ultimate winner.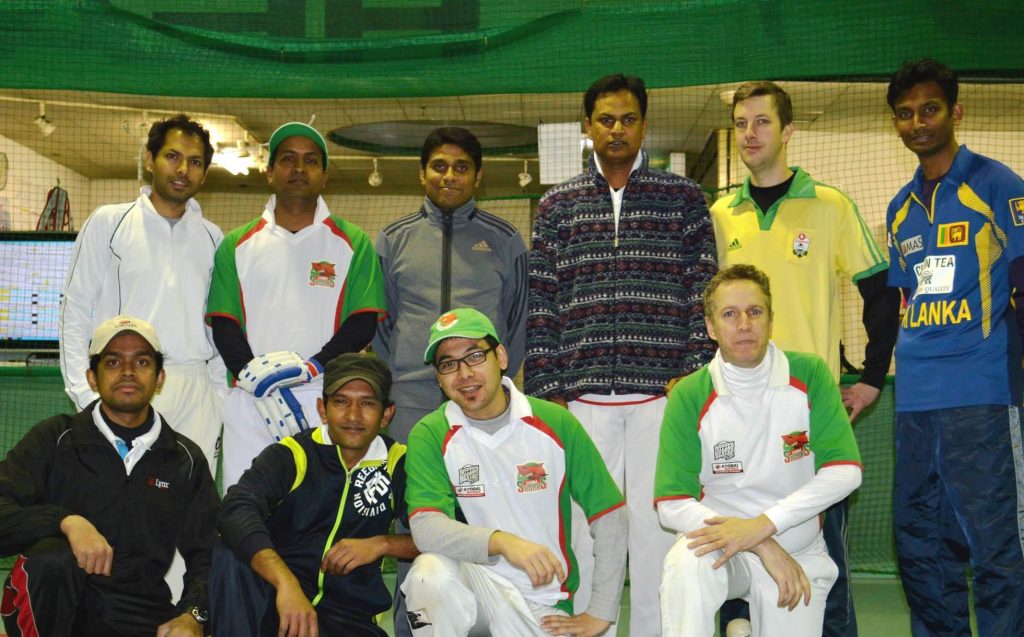 In fact, two trophies were on the table tonight. One was for the fantastic big plastic – the annual 'Winter Indoor League Champion' trophy kindly put up by Action Sports Stadium each year. This would be decided by best of three games. The other was riding on the final game – the '2015 Indoor Challenge World Cup' (provided by yours truly).
Sharks tonight were Kris, Awal, Ben, Karthik, Sankar, Alwin, Mairaj and Asala. Unfortunately Aditya was a late withdrawal.
Sharks also featured in the Rising Stars – Sumon, Murad, Sayeed, Nazrul, and also Hasnat, Mohibul, Shanchoy and Rajin.
Game One (Kris' live notes)
Kris won the toss and we decided to chase, sending the Stars in to bat. Alwin captained in the nets.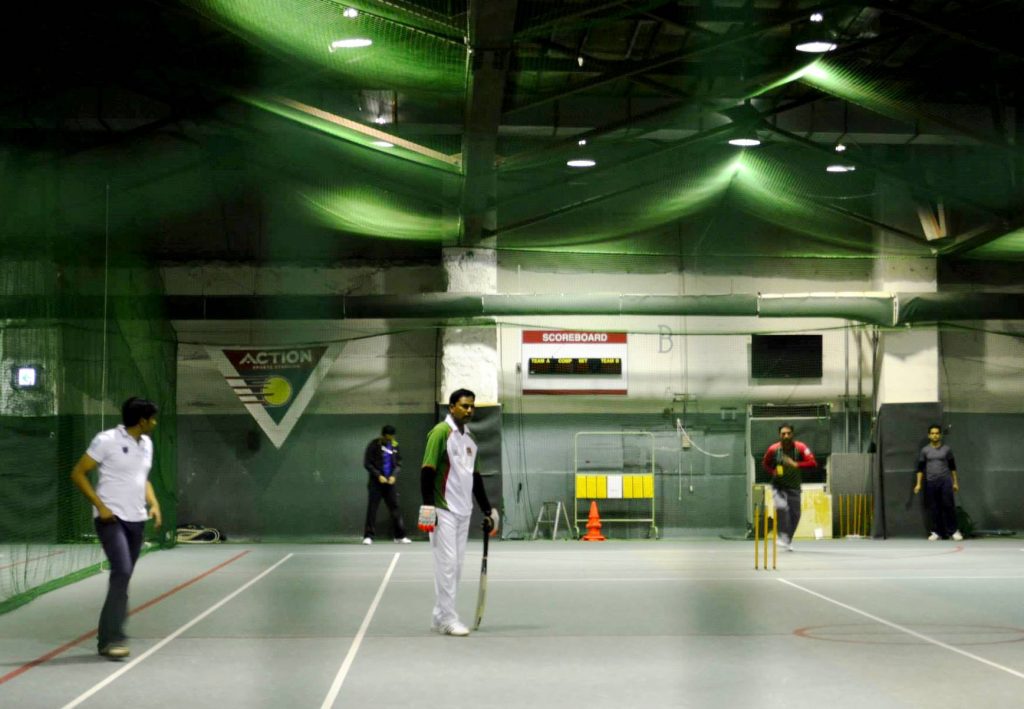 @Ball
We ran through our bowlers in sets. Overs 1-4 Awal and Sankar. 5-8 Karthik and Alwin. 9-12 Ben and Asala. We were better with our wides (even between the two teams). What we did not do was take enough wickets. Only three, two of which Sankar bagged, both bowled in his first over. Our only other joy was a run-out, Awal making a good stop, collecting and getting it back to Asala as 'keeper. [Author's Note: my 'live' game notes actually record two addition run-outs not recorded in the computer print out. It did not affect the outcome, though.] We bowled good tight lines for the most part. There were also some fantastic stops made. We let the middle over bats of Sayeed and Rajin get away from us and that was the difference in the end. Rising Stars 77.
@Bat
Awal and Ben opened. A stumping first ball did not bode well. There were three stumpings by a red-hot Sumon over the innings. In fact, he was the difference between the teams with 19 runs and 2 for 1. No pair (Karthik and Sankar, Alwin and Asala) could get going against a very tight bowling attack. Our scores in 1-4 and 9-12 we only 2 off the Stars. We just could not generate enough big shots through the middle. That and losing six wickets kept us to a very under-par 40. Game One to Rising Stars.
Game Two (Ben's live notes)
We had to win this one to stay in it. Kris and Mairaj came in for Ben and Karthik. Kris again won the toss. We sent them in. And what a game this was!
@Ball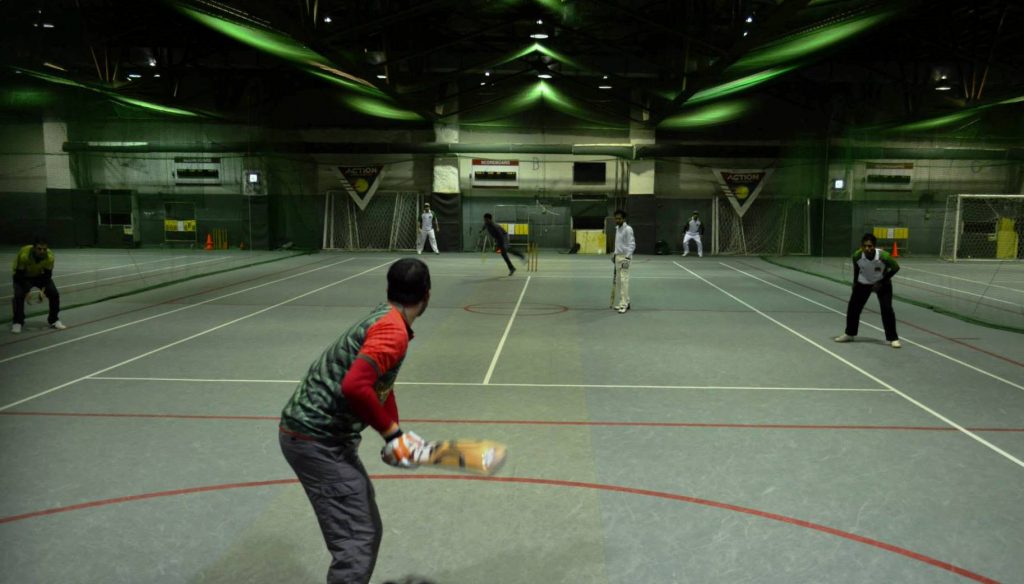 We sprung a little surprise by opening with Kris. A run-out ensued first ball. Kris and Alwin gave up a few too many freebies, however, with Sumon weighing in with 21. Overs 5-8 Mairaj, Asala and Awal it was a repeat of Game One as this time Murad and Hasnat often scored multiple runs. Kris picked up an opportunist run-out behind the stumps, but that was the only wicket in that period. They banged on 35.
In the final overs Sankar, Mairaj and Asala could not turn the tide of runs apart from a great 'keeper collect and bowler's stumps throw down by Asala. We had some almost-wickets and good pieces of fielding by everyone. Still Stars compiled a formidable 99.
@Bat
This score would push us. Each pair would not only have to make runs but also not lose wickets. Kris and Awal opened up. With careful placement, good calling and percentage shots they wiped off 28 – the same score as RS at that stage. Next in Mairaj and Sankar took up where the first pair ended. We still needed more multiples but while they worked it around almost every big shot went straight to fielders.
Then – disaster and not a little controversy. In their last over there was a run-out first ball. Then last ball a strongly hit shot was plucked for the catch. The disappointed batsman left their creases for a midwicket chat thinking their overs were done. The bails were whipped off and the additional wicket given. While clearly not running, 'over' had not been called so the ball was 'live'. [Vision taken also showed that in fact the wrong end stumps had been broken.] So three wickets (the only ones we lost) in that over hurt us. It left us at just 33.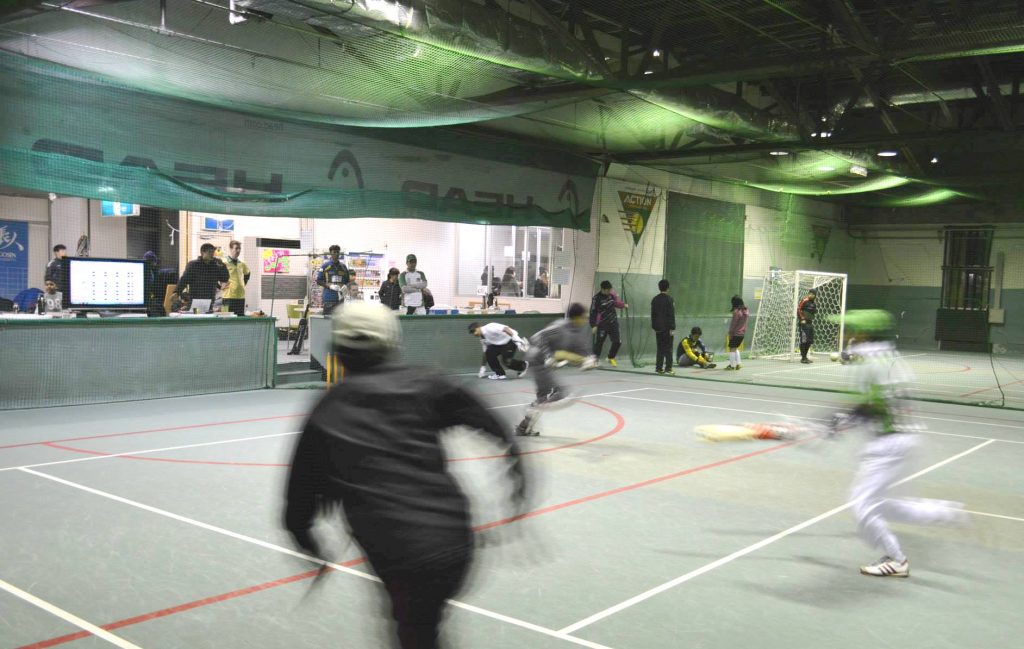 Asala and Alwin would have to hit a mammoth 67 for us to win. They damn-near did it! Asala slammed two 7s and a 4 and Alwin added two 2s and 1 in a 23-run 9th over. It did not stop there. Another Asala 7 and some change with Alwin with 1, 3 and 5 added another 19. Golden-armed Sumon went for 2 and 4 then lost his line with wides. Plus 13! 55 in three overs!! It came down to 12 off the final over to be bowled by potent and bloody painful Hasnat (as Kris and Ben can attest). He had only gone for 14 runs over three overs of thunderbolts so far tonight. Asala and Alwin scored off every ball but just could not get it to the scoring areas they wanted. Sharks fall short by 4 runs on 95.
It was a mighty, mighty effort by the boys. Asala smacked 34 and Alwin 28. There was only one dot ball (and how valuable that was) and Hasnat was right on the button at the end. But if we were going to go down, we went down swinging and swinging hard. Stars knew that they had dodged a bullet. Again, Sumon showed his wares with 21 and that three-wicket over.
So that made it 2-0 and the Rising Stars and they take the 2015 Winter Indoor title – congratulations! But we had agreed to also play Game Three for a further trophy, the '2015 Indoor Challenge World Cup'.
Game Three (Asala's live notes)
Ben and Kathik came in for Asala and Mairaj. Kris again won the toss and sent the Stars in.
@Ball
The Stars innings was almost a carbon copy of the previous game with a few less runs. Sayeed dominated in a 28 run stand as no bowler could make in roads. A run-out was all we had to show. We were tighter in the middle overs and managed two 'out' but Awal took a bit of a pounding to see the score up to 64. Clearly the Stars batted a nurdler with a power-hitter. As was the case throughout the evening, we could not penetrate with the ball. We got 3 bowleds, no catches, but 7 run-outs. Karthik was the pick of our bowlers in this game. Stars 92.
@Bat
Another large total to chase. Kris and Ben, two good legs between then, hobbled out. They did quite well, taking runs and wides, until the last over of their set. Two Hasnat missiles took out Ben's stumps and a third later nailed the imposing duck-egg on his shin from a previous game. As Ben went down Kris scampered through for the run-out… They lost 4 wickets but managed to post 17.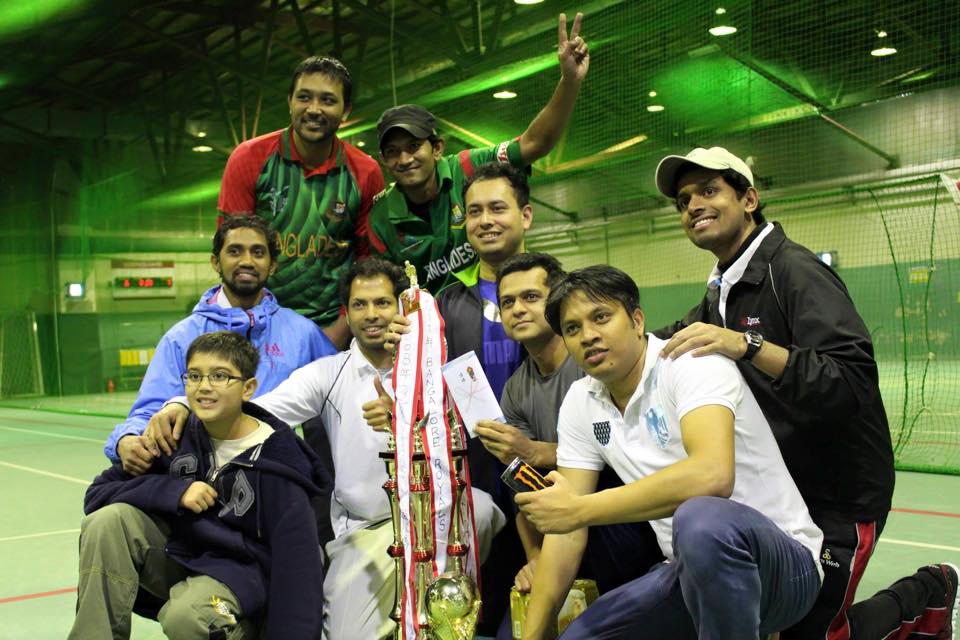 Awal and Alwin continued our trend of losing wickets in batches. They played very well, even taking 19 off one over with a 7 each. But then three wickets in three balls set them back, getting us to 48. Karthik and Sankar faced another big ask of 43 to win. They went at it steadily, finding the nets and getting double figures in each of their first three overs. Yet again we need 12 off the last over and yet again it was Hasnat with ball in hand. With four singles it came to 8 in 2 and Karthik, who had been is sharp form, had to have a crack. Alas, Hasnat was in devastating form and it rattled the plastic. Sharks 82.
So, 3-0, and without doubt, 2015 champions were the Rising Stars. We were out-played and out-thought tonight. Our plans were dented a bit with Adit's absence, but the Stars thoroughly deserved their wins. For the Sharks our standout was Asala with the bat, steady with ball and lively behind the stumps. Finals MVP went to Sumon. Game One was a blow out for us, but in both Game Two and Game Three we fought back to at least have a shot at winning coming into the last over.
Thank you to Miyakawa-san and Action Sports Stadium – we are fortunate that we can play these games. That you also to Miyakawa-san for his umpiring – it all evens up in the end, I think. And thank you to the Rising Stars for seven games across the winter!! Now for outdoor!!