SHARKS ENJOY WYVERNS ON A STICK
WL –7.2.15 Action Sports Stadium (ASS)
By Kris Bayne
'Almost live' but definitely still kicking once again from Action Sports Stadium for Game 5. On the menu tonight are a couple of tall extra strong lemon chuuhi, some quaint norimaki, something on a stick, which would baffle even the caterers at Eden Gardens, and the Wyverns. An appeal against the cold was turned down by the umpires and this time the Sharks made sure to warm up first!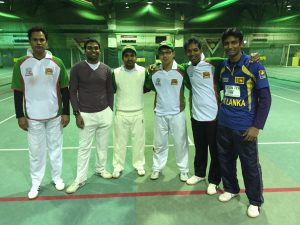 It is somewhat of a South Asian Sharks tonight: Captaining is Aditya (India), with Asala (Sri Lanka), Awal (Bangladesh), Mairaj (Pakistan/Japan), Alwin (Nepal) and Sankar (India). Among the crowd of family and fans, and out in force, are the Rising Stars, who absolutely took the Wyverns to the bloody cleaners in their game tonight (one hapless Wyverns newbie got to face Hasnut for three straight bowleds, middle peg). The Wyverns seem to be a mix tonight, soon to also get shaken.
Anyway, now it is our turn. Name sheets are in. Adit calls correctly and we decide to have a bat first. "Phshwttd!" goes the first chuuhi and "Play" booms the ump.
@Bat
Overs 1-4
Alwin and Sankar to open. Off to a circumspect start with good calling to get some additional runs. Novice bowler (who with THAT action will NOT be playing in the World Cup… ) Yes, well, he gets smacked for 5. I can hear Sankar winding up from here at the commentary table. It is a slow two-bounder, and he has belted it down the throat of a back net fielder. Oops! But just about every other ball gets runs. Oh, dear, he's has carpeted it!! A let off. The runs are ticking nicely. Here is a friendly pie chucker who goes for 5 from Sankar and a 7 from Alwin and there goes another slog down someone's throat. What mayhem! Adit set the boys a target of 40 and they fall just 3 short at 37. Nice work!
Overs 5-8
Experienced Mairaj now with the unpredictable Awal. Mairaj sends one back from whence it came for 4 and they pick up extra runs with great awareness and good calling. Mairaj gets his off stump knocked back – a little over-zealous there. The lads are taking their chances but are working-over the inexperienced fielders. Awal is so much better playing with a straight bat as he creams one for a 3. Very sensible batting from both players as they pick off runs almost at will. They end up having added 33 to have us at 70. Good work!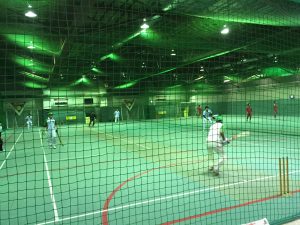 Overs 9-12
Okay, it is now up to Adit and Asala to push this beyond the Wyverns. Adit fans three dots outside off, but the next goes to the net and with a quick extra run. Very experienced pair and they are also looking to score. Asala belts a 7 as they rocket along to 93. Adit was a tad lucky to survive a good 'catch' behind the stumps and he celebrates with a 7 (good sportsmanship by the Wyverns to confirm that). We have a wicket here, somehow. Seems a run was taken, and another on a missed shy at the stumps but somehow the ball has slowly rolled back onto the bowler's stumps for a runout. Have you seen anything like that before, Ritchie? Ritchie? Luck goes the Sharks way at the end. Very smart batting throughout and we finish on 108. Wyverns will have their work cut out with our attack.
@Ball
Overs 1-4
Hmmm… Awal's radar still needs tuning and Alwin's is not much better. Sankar gets us back on track with a runout and Awal is looking menacingly sharp close in. Alwin cuts off a certain 4 and Sankar finishes with a dot. Another runout as a roof-netted ball just eludes Awal only to be swooped upon by Adit at the back. Awal has found his target and the batsman are only just keeping him out. Not many runs coming here at all.
Overs 5-8
Alwin straightens up the batsmen then sneaks one under the bat for a bowled. Almost again. And this time again. Wyverns in reverse here. And it gets better, or worse depending on who you are. Mairaj with the gloves snaps up a stumping off Asala. He then knocks back off stump. The field is really hustling. Awal bounces and we get a slightly controversial run out. Mairaj baffles the new Wyvern who promptly hits wicket and Adit polishes off the over with a nice stumping. Not sure what the score is but there can't be much left of it. Asala gracefully collects on his follow-through and backhands it to the stumps for a runout. Awal takes a great catch in close. Then two more almost go to hand!!
Overs 9-12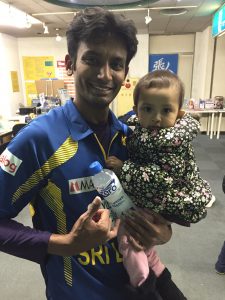 We give them some runs back with a bit of wayward bowling – the Kashiwa tilt is affecting Adit. He does feature in another runout but what I think is the first back net runs have been scored. Mairaj and Adit, who is maybe a bit rusty, finish out as the batsman claw their way back up to 39.
South Asia, or Special Assortment, Sharks 108 to Wyverns 39. A resounding pounding. Great all-round effort. All batting pairs contributed. We were very sharp in the field. We are still giving up too may free runs but it was an improvement over last time.
We still have second round games to play against Wyverns, South Club and Seishin University. At the moment us and Rising Stars are way out in front on the points table… wherever that is.
Okay, it is over and out from Action Sports. I am off to blunder around our new-looking website!
(Webmaster's note – Just don't touch anything KB!!)