WL – 21.2.15 Action Sports Stadium (ASS)
By Kris Bayne
On one side of the Pacific is the Cricket World Cup. On the another side of 'The Pond' is the Winter Indoor League. An ocean apart in geography and skill level, but isn't it great to able to enjoy both? Sharks faced up against Senshu University (more of them than before) again and followed that up with practice game against Rising Stars.
If the game against Senshu was like a fumbling waltz where no-one knows how to lead, then the practice game against the Rising Stars was like dancing with your sister. Nice for practice but you can't really get serious about it. But it was still a lot of fun.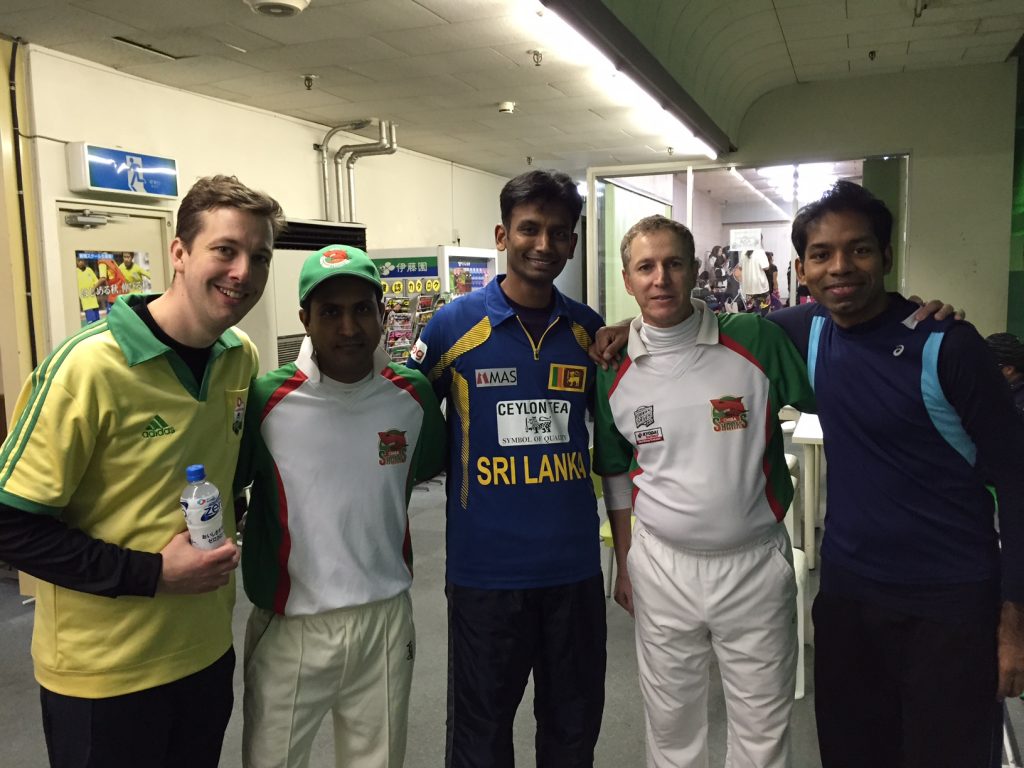 Up for the Sharks tonight were the indoor stalwarts for this year: Awal, Asala, Sankar, Ben and Kris (finally!). Mairaj had to pull out ill and his place was taken by Sayeed, Nazrul and Murad. Thanks guys!
Sharks vs Senshu University
In our Round 1 game only two students showed and we gave them a spanking anyway. We sit atop of the indoor table with 14 points against Senshu's 0 so this should be a bit of a stroll. It was most of the time. Most. Kris started off by losing the toss and Sayeed and Nazrul stepped in to help for the ill Mairaj and delayed Awal.
@ Ball: Overs 1-4
Sankar got us off to a great start, taking off stump first ball and inducing a catch on the last of the over. Ben finished his first with a stumping (the students are new to the game of cricket and concept of the batting crease is a vital lesson to learn). Sankar swooped on a ball close in and a direct hit from side on accounted for another wicket in Kris' over. Asala was his usual frugal self. Students finish on 1 after 4 overs.
Overs 5-8
Awal's arrival saw him immediately into the action. After fanning the batsman for a few he decided enough was enough and bent back leg stump. Runs were difficult to come by as Sankar, Ben then Kris gave little way. Senshu found themselves at 11 after 8 overs.
Overs 9-12
We let them off the hook in the last stanza as the 'Kashiwa Tilt' caused balls to slide down leg. We gave up 14 free runs in addition to the more experienced batting pair finding the side nets. We gave Sayeed (sub) a bit of a bowl also. We did nail two more runouts, closing the innings the way it started. Senshu 30 runs off 12 overs.
It was generally a good performance. Despite one 7 off a scooped defensive shot, no runs got to the back. We had a patch in the middle where we bowled 10 dots in 13 balls. Awal and Sankar were extremely sharp in close and Senshu were never really in it.
@Bat: Overs 1-4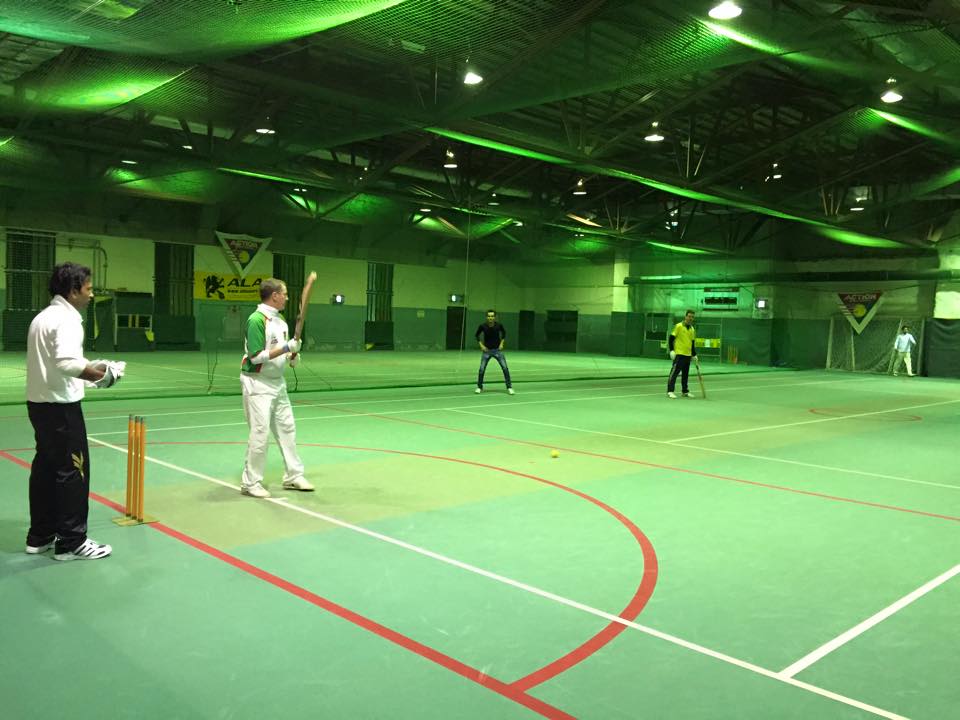 Kris and Ben opened. Kris took strike for his first knock since… since… probably the Japan Cup or 1652 (whichever came last). Let me digress (please indulge me.) A rather tall, gangly student was set to bowl, basically off one step, which was a very very high one. One might have mistaken it for a John Cleese silly walk. Then it was followed rather slowly by a long arm with a ball at the end. Sort of reminiscent of a catapult, or maybe a trebuchet, that siege engine of old, or Jeff Thomson in super slo-mo. While Kris expected some bounce, unexpected was the swift pace generated and the ball slamming straight into his inside right knee.
Readers may know that is the exact location of his tribulations over the last six months. Ah, tender is the night! Obviously F. Scott Fitzgerald never played indoor cricket nor was hit in a soft spot with a cricket ball. Pain equaled surprise in intensity as he asked the concerned and sympathetic crowd, "How the #%7$ did he do that?". No sufficient answer was forthcoming so he wobbled back to the crease and straight drove the next ball right back over the bowler's head, trotting off to make it 7. Humph!! The pair then set about gently not letting much but wides through and giving a master-class in calling and smart running/hobbling. Ben placed it very nicely to all parts for a game high 19 runs. They racked up 35 for the loss of no wickets. Just as bloody well!
Overs 5-8
Next in were Awal and Nazrul (sub). Awal can bat so well when he plays straighter, more from the crease and goes for percentage shots – which he did in the next game. He and Naz got runs then lost runs, got them back then lost them again, in all sorts of ways involving Awal. It was just 'one of those days' and that he ended on 1 showed how much Awal actually did hit for runs! Naz toughed it out for 6. They left the score on 42.
Overs 9-12
Asala and Sankar were left to hopefully push us up to a bonus point but after an over and a bit they had lost two wickets and thoughts now turned to not losing the game. Sensibly they left off trying to blast their way home to play it safe and finding the nets. A late catch sent hearts a-flutter but two gifted wides at the end saw us safely past 50.
Sometimes things just don't go right but if that happens and you can still win, who's complaining!! What it did teach us was the value of a good start with bat and ball. Ben claimed the MOM for his 1-2 and 19 runs (though Kris ran him close with 1-9 and 15 runs). Next up we played Rising Stars.
Chiba Sharks vs Rising Stars
We had been denied the earlier pleasure of Australia VS Bangladesh (or Bangladesh VS Australia) by two tropical cyclones fighting for elbow room in Brisbane. And across the Tasman Sea it was raining something else – white cricket balls thanks to Messrs. McCullum and Russell. Thankful we managed this game without the danger of drowning or concussion. The Rising Stars had a large group of local and vocal supporters. Sharks had one, but he flew all the way FROM the World Cup just to watch us!! Thanks, Koji, for coming along, mate. He is still taking Aussie wickets, is still handsome and still has the best accent of any Shark in history.
The Rising Stars were: Rajin, Sayeed, Shanchoy, Mamun, Sumon and Nazrul.
We gained the all-round services of Murad for us.
@Ball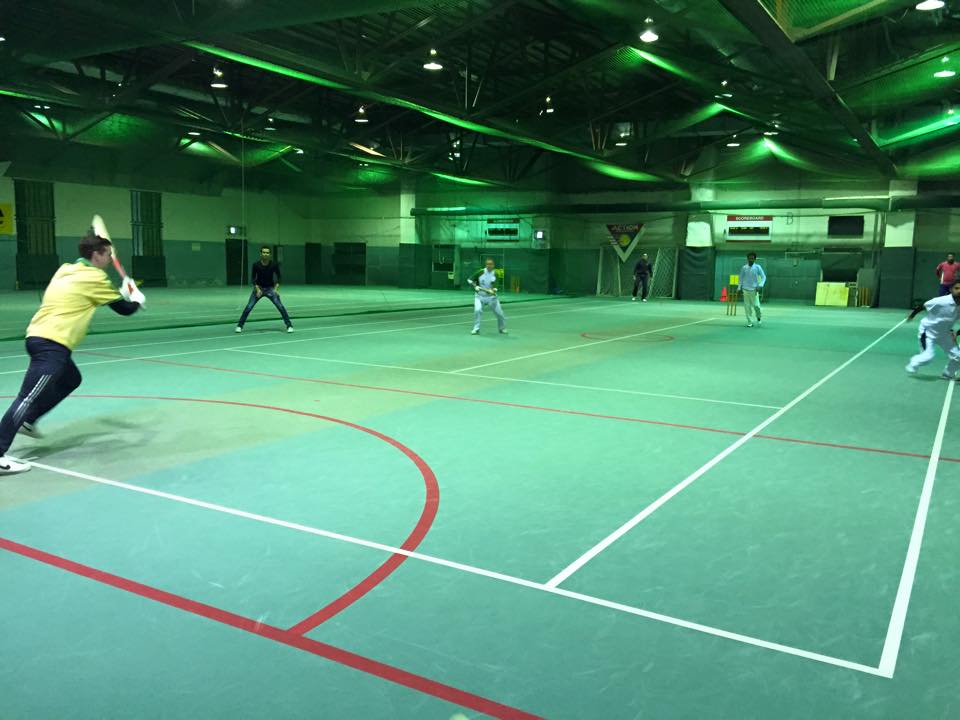 We went for the same bowling patterns and again Sankar got us off to a ripper start with five dots and one run. Ben followed tightly. Kris lost this radar a bit but started the wickets tumbling. That, and in overs by Murad and Asala, five went down, one to a brilliant catch by Awal and safe hands by Ben. Very tight lines added pressure (Sankar again with four dots and 2 singles) and another couple of wickets were had. Kris was on the end of a Sayeed 7 but got some revenge with a stumping. It was a very good bowling performance against an experienced team and we gave away few free runs, cut off a lot and took our catches. Rising Stars 52 after 12.
@Bat
Same order as before with a less eye-opening start to the innings of 3 wides. While Ben played a wide one on, that was it for wickets as they reprised their first innings, allowing only two balls through unmolested for 30 runs. Murad accompanied Awal. Lesson learned (or pride dinted) Awal showed great poise and judgment to add 15 runs to all parts, while Murad showed absolutely no mercy to his teammates by flailing them for 24! The pair added 39! Asala and Sankar made amends for their first showing, playing the many good balls well and finding the side nets for percentage. They added a further 26 to take us to 95 for only one wicket down. A very very competent batting (though we did have Murad and they didn't have Murad or Hasnat).
Always nice to play cricket and to play with your mates. That evens it up 2-2 for Sharks vs Stars. Next up is probably finals so let's have a big turn out for both sides and have a fun night, hopefully battling it out for the indoor trophy. It certainly will not be ballroom dancing.