JCL2: Chiba Sharks vs Indian Tigers CC
Fuji 1, 26 April 2015. By Kris Bayne
That we got to play Indian Tigers, the latest addition to the JCA cricketing fraternity, was a major effort of enthusiasm, dedication and perhaps cajoling. And maybe something else. Ten Sharks made the trip to sunny Fuji. Though we did fall short, and were short, it did speak volumes about our depth and that this could be a big year (already has!) for the Chiba Sharks.
Unavailability of players for this round saw some 2nd XI stalwarts in the 1st XI against Wombats. Unfortunately this came back to bite us on the behind because only three 1st XI players could play in the twos in the same round. So, although we had a lot of hands up, only three could legitimately play. On Thursday it was looking like we would have to forfeit either by playing excess 1st XI players, or by not playing at all. We do not like giving games away…
But, this was April 25th. 'ANZAC Day' for Australians and New Zealanders. And 100 years to the day, in fact. One hundred years ago, on 25 April 1915, during World War One, a combined force of Aussie and Kiwi soldiers, the Australia and New Zealand Armed Corps (ANZACs), were ordered by comfortably distant British generals to take and hold a narrow beach in Turkey, a beach that had high cliffs and a waiting and prepared enemy. Weeks they tried and fought. Huge numbers were killed and it ended in defeat. Defeat in a physical and tactical sense, but not one in a spiritual and national sense.
Over time it became burned in the psyche of both countries. From this both Australia and New Zealand grew, as independent nations and in their national identities. No matter what the odds against you, you try. And when you try, you are trying for your mates. If you ever wonder why Australian and New Zealand sporting teams never take a backward step, part of that mentality comes from this historic event. To talk about 'the ANZAC spirit' is not to glorify war, but to call on an attitude that says, 'we will stand together and you'd better be bloody good to get past us'.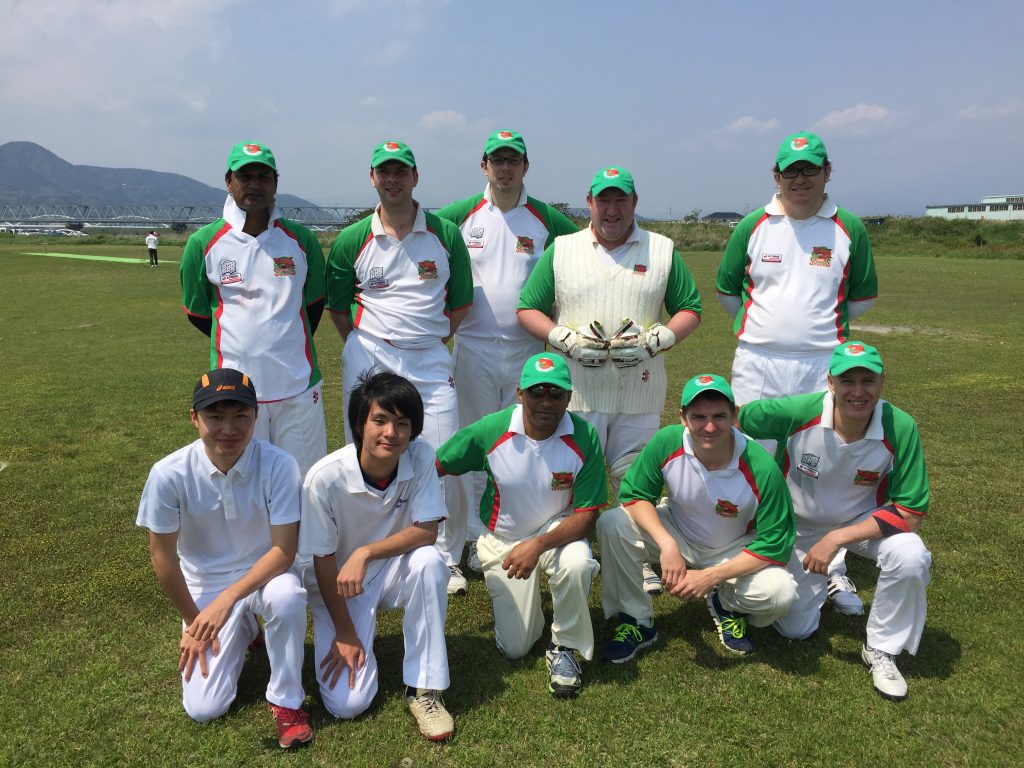 It was somewhat fitting, then, that Chris Molloy (NZ) and Scott (Aust.) became available to play. Chris is still recovering from what became a very serious injury and Scott is always busy, but the two big Antipodian units came in for their first games of the season. This filled out the contingent of other ANZACs in the team, Dave, Chris T, Kris (KB) and Paul. The experienced Karthik and Mairaj, and two very new players to both the Sharks and cricket, Yu Hamamichi and Hiroto Sawaguchi, made up the rest. Ten. Game on.
Admittedly it wasn't the strongest-looking Shark team on paper. It would pose a challenge to Captain Thurgate when it came to batting order, bowling depth… field placement… And the Indian Tigers are KCL-honed vets, and while we fixed them up grandly in Sano in the Japan Cup Finals, they had previously done the same to us at YCAC.
In a way, it was a game that befit the day. It was a cracker.
Batting
Chris won the toss and decided to have a bat. To say much depended on the top order is quite the understatement. We knew Dave's abilities. We knew Chris T's destructive power. Paul can bat as can Karthik. Chris M had a great season as opener but has not held a bat in six months. After that, well, we were a bit light. We would have to get runs out of all our top four. Instead we got the most runs out of the Indian Tigers who gave us 34 wides. There is not much we could say about the Shark innings. We were rolled for 84… Dave top scored with 23 off the bat. A signature straight biff down the ground was his highlight. He fell to a generous LBW.
After that it was a series of short cameos and partnerships inflated by wides. Mention must be made of Scott who kept the cherry out for 25 balls with one lovely scoring shot for 4. And of Mairaj who banged out two glorious 4s, one a perfect swivel-pull. I will leave it to you to tut-tut over the score card. 9-83 all out in 20 overs.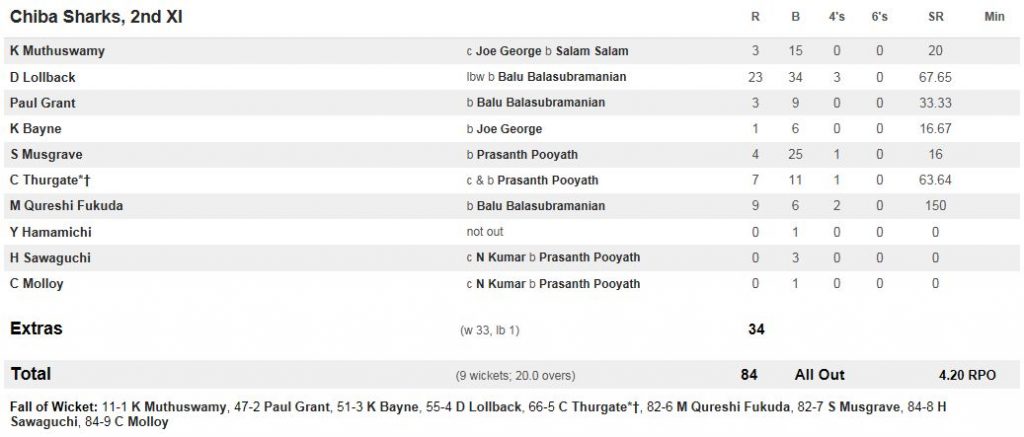 Bowling
"We can do this!" was Chris T's message. Get the break, get another and then anything can happen. Well, it certainly did. The opening pair was Paul and Scott. The Tigers never imagined what was coming. The crack was opened by a fine piece of fielding by Mairaj. He chased down a ball on the boundary, got it back to Chris T and we had our first wicket.
Next Paul was into the action. A big nick was gladly accepted by Chris. It would be the first of three 'c C Thurgate b Grant'. Paul was whizzing it past the edge in a fast, intimidating and effective bowling effort. Meanwhile at the other end, big Scott sprayed a few at first but then settled into an unhittable line punctuated by some unplayable balls that leapt off a length. His figures deserved better, but that is the way of cricket.
Next wicket to Paul. A huge thick edge flew high to Karthik at slip who parried off his chest and grabbed the rebound. 3-29 and the Sharks were up and about! A bit of a recovery took Tigers to 50 until a cracking delivery from Paul uprooted determined opener Nair's off stump. 4-50 became 5-52 when a snorter from Scott finally took a glove and Chris took the catch. Then 6-52 as a big nick off Paul heading between 'keeper and slip met a nonchalantly hung out Thurgate glove!! What the 1st can do the 2nds can do better!
As we crept toward drinks at 15 overs the Sharks were on song and the Tigers in tatters. And to top it off, Paul was not done, getting a faint tickle heard by a few, but one of them being the man with the finger of destiny!! In fact, it might well have been 8-fer as for once today Chris could not hold a flying edge to his right. At drinks, Indian Tigers 7-54, and Paul with figures of 8 overs, 5 for 35, and Scott an awesome but unlucky 7 overs of great quick bowling.
Not so many runs in which to get 3 wickets. The issue was who would take up the next set of overs? Scott had one more over. Dave, obviously, would bowl. Chris M was not able to bowl and the two Japanese lads could not be considered at this stage. Chris T had the gloves. That left Mairaj, KB and Karthik. Chris opted for KB. Post-drinks Scott finished off his spell with a wonderful 8-1-26-1.
KB then sent down exactly what was asked with just one squeezed run. With Dave we had a bowler who could take out the best and we nearly had one. The wrong-footed and ultimately horizontal Yu almost pulled off a miraculous catch. With only 10 runs to go we had to get a break. What broke was KB's line. A close stumping appeal was not successful and then the end came quickly as three consecutive balls on leg disappeared to the square-leg boundary.

It was a disappointing end to our game. Paul and Scott had been brilliant in getting us into a position to win. We just did not have the firepower to finish the Tigers off. Our 83 was very poor also. Still, we had a bowler with yet another 5-fer for 2015 as Paul joined Vicky and Sankar with that fantastic effort. And Scott should be very proud of his all-round effort. We have the chance to get our revenge on Indian Tigers very soon.