JCL1: Tokyo Wombats XI vs Chiba Shark 1st XI
Sano3 18 Apr 2015 by Kris Bayne
By far the longest, biggest and fiercest rivalry in the JCA is Chiba Sharks CC vs Tokyo Wombats CC. In twelve years of competition the Sharks have only triumphed once. Yes, once – that being the epic JCA final of 2010. Wombats have always seemed to be blessed with a top-notch, hard-nosed top-order whereas probably our bowling depth has been our stronger suit (no offence, Sharks batsmen).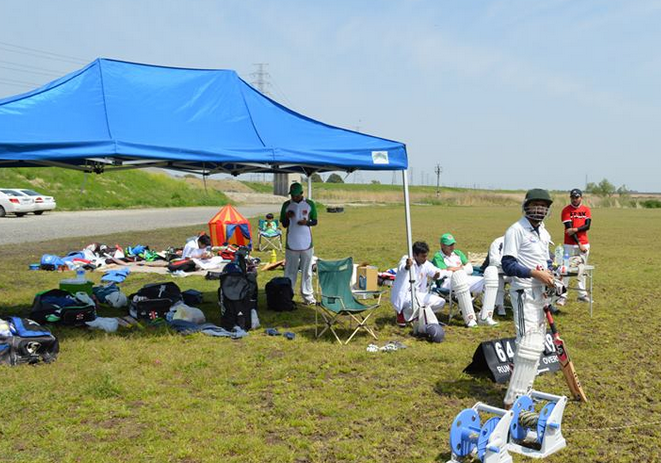 Since the 2010 win quite a number of games have been rained out but at times we have also let games played inexplicably get away from us. Kudos to the Wombats for beating us consistently, though. Both sides today were missing stars and both fielded new-look teams. It was a sort of new look for the Sharks especially because we delivered Wombats an almighty thumping!
On the team sheet we had quite a mix of old, new, in-form and incapacitated. We were Dhugal (c), Vicky, Aditya, Awal, Sankar, Mairaj, Karthik, Asala, Hassan, Vivek and, plucked from the cheap seats mid-week, KB.
Dhugal lost the toss and the Wombats elected to field. It was a sunny day but with a stiff, chill windy blowing directly from the Tone River end. The ground was very chopped up and spongy.
Batting
Sankar, fresh from a fantastic all-round effort in the 2nds, and Karthik padded up to open against a bevy of largish Wombat bowlers. Mission: stick around. They did just that, soaking up the dots until Karthik succumbed to a rash swish at a shortish ball and gloved an easy catch to second slip. Enter Dhugal. While Sankar dropped anchor and absorbed some short stuff, Doogs set about getting himself in and then started to find the boundary, including some big square cuts and pulls. Wides were also helping us out. Sankar was also starting move up a gear when disaster struck. A lazy top-edged pull from Dhugal off SL Lion-turned-Paddy-turned-Wombat, Chula, fell into the delighted hands of midwicket with the score at 56.
Although we had some new bats who had already shown they could score, that wicket hurt and the Wombats knew it. So did our Captain. Asala strode to the wicket. Sankar started to open up and knocked in a couple of boundaries but he soon followed Dhugal, tickling one back to the 'keeper. 3/65 after 18 overs.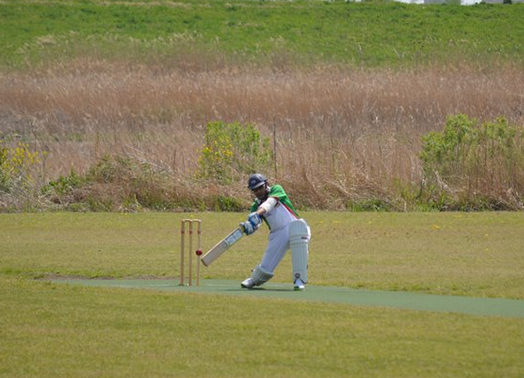 This brought feisty Hassan to the crease and we would need a repeat of good efforts from both these batsmen to post a solid target. Hassan was soon back, however, and at 4/71 we did not have much left in the Shark tank, to be honest. Vicky joined the calm Asala but anything could happen. Vicky played himself in with a ball before reeling of a 2 then a pair of fours, one spectacular, one speculative. A couple of shots for runs soon followed and another booming four until his furniture was rattled by another ex-Paddy. It was a nice little partnership but we were still an underwhelming 5/105.
KB waddled to the crease to see off the rest of the accurate Ethukala with aplomb. Asala took charge now with a stylish and effortless boundary. The pair scampered for runs and Asala swung mightily to dob the ball over the rope. The introduction of the deceptive Koolhoff reaped reward when Asala was indecisive and trapped LBW. We were into the tail with only 111 and things were not looking good. Vivek pounded a pair of 2s, but KB's dream of a 'Big Show'esque innings ended with a regrettable top-edge to square. Viv also holed out to an indiscriminate shot, followed immediately in similar vein by Awal. We were sinking fast, holing our own boat.
Adit deposited the ball to the rope and last in Mairaj uncorked a stylish cut forward of point and the finest of leg glances to push us up to 132, but all out for 132 after 33 overs was a poor performance and it would take some stout defending.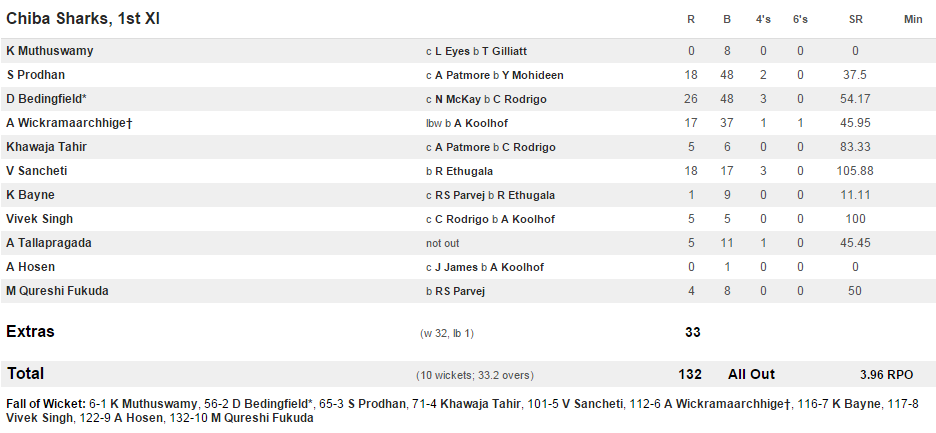 Bowling
I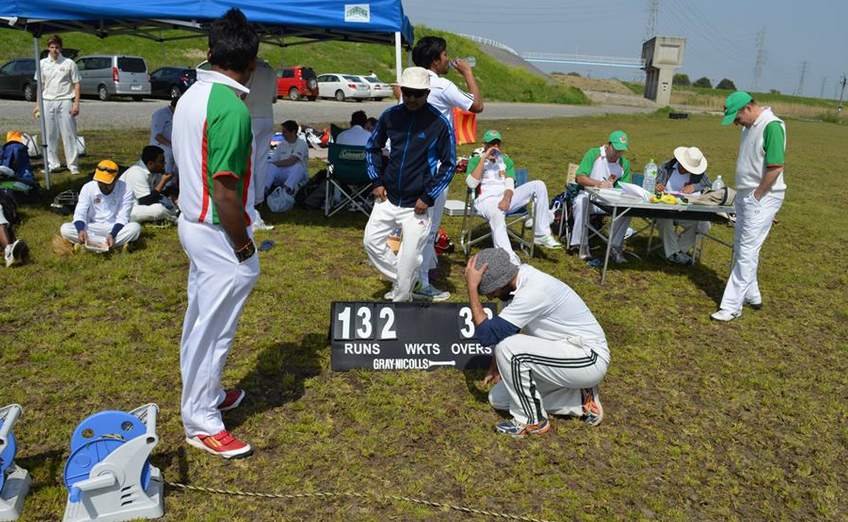 t was a low total, but Doogs pointed out it was definitely defendable if we applied ourselves. Wombats had bowled too short and given the wind we had also reaped a significant number of extras. Our bowlers had to pitch it up and make the batsman get the runs, not us give them away. Asala took up the gloves and Aditya and Vicky took up the ball.
It was a steady but not overly significant start. Lines were good, balls played at and missed, though Patmore laced a beautiful boundary. After 3 overs Wombats were 11. Then all Hell broke loose in the guise of mild-mannered Varun Sancheti. 'Smiling Death'. 'The Fuji Wrecking Ball'. He is prone to destructive bursts. This was more like high-precision, lazer-guided missiles.
First up was Patmore who at least got a couple of millimetres of wood on the ball as it went through to Asala who held on for the out! Key wicket and great start. Four rip-snorting dots, a close wide and the ball slammed into the new set of pads. The field went up as did the finger! 2/12.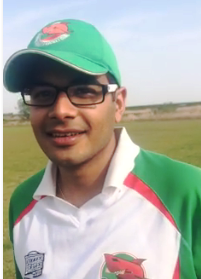 Adit was keeping on the pressure at the other end. Vicky up again and the dangerous Chula in, probably a bit earlier than usual. Another Sancheti rocket trapped him in front and off he had to go. The next ball was ever better – a sandshoe crusher, LBW, and up went the finger again!! The hattrick ball whizzed past the outside edge. Double wicket maiden, 4/19 and the Sharks were delirious, but we urged each other on to keep the pressure on.
At the road end, meanwhile, Adit was doing battle with the remaining opener, who was occasionally clunking the ball McCullum-like down the ground. Hassan pulled off a fine effort to cut off a certain boundary and generally the field pounced on anything the batsmen were able to hit, which wasn't all that much. A single brought him down to face Vicky for the first time. First ball the bails were on their way to deep fine and third man boundaries, respectively!
Vicky had taken 5 wickets for 1 run (a wide) in three overs basically singlehanded! (His over figures read like a telephone number – 06-27-47-57-5-10. Dial a destroyer.) The stuff of legends! It certainly stuffed the Wombats! If the Wombat back was not already broken it certainly was now at 5/25.

But wait! There's more! If the Wombats were numb, we were bloody fizzing as the field cranked itself up. Adit was still building pressure and the search for runs looked desperate. The pressure paid off. A decent shot went deep to long on where Hassan chased it down like a greyhound. A flat relay back to Doogs who then fired it looong back to Asala who took out the stumps! Gone on the second run! It was a wonderful piece of teamwork! After ten overs Vicky and Adit took a well-earned rest. I dare say the Wombats were relieved, too.
New batsman, McKay had bowled well and look a competent bat, but runs had to be made. He launch at one in Hassan's first over only to see it safely taken by Adit at long on. At 7-37 (do not adjust your TV set) it was hard to see us giving this one up, but still the feeling was not just to put the Wombats out but to put the Wombats down! We have had this marsupial climb on the Shark back for far too long and we wanted to end it emphatically.
The batsman, as you would expect at this stage, had a lot of time (29 overs) but there was not much to come. They tonked a few boundaries, we gave a few wides, but a wicket was not far away. And what a beauuuuuuuty! The ball still had a bit of shine and both Hassan and Vivek found some swing. Vicky's masterclass aside, the ball of the innings probably belonged to Viv. It came after three wides in four deliveries, but it made up for that, pitching, coming in a tad and clipping the exact top of off, sending the bail over the 'keeper while it's partner rested peacefully where it was. Top nut! 8/53.
Hassan was not to be outdone. If Viv's ball was subtle in it minimalist approach, Hassan ball to Rony made an exhibition of itself, running across the three stumps like a stick on a picket fence. 9 down! Now in between all of this bowler-centric mayhem, what was the field doing? Making a lot of noise for one (especially Awal!) but no-one had let their guard down at all. At one point very late in the innings Koolhoff just squeezed Viv out only to have four Sharks converge simultaneously on the ball at pitch edge. No malice, just pure enthusiasm and attack on a loose ball! It was great to watch the field in action today.
At 9/63 we had our finally huddle – Doogs ruled that when the final one went down we would get to that bloke, whoever it was, and have a grand celebration. We did not have to wait long. The bowlers had been magnificent, but it takes a team to do the job so it was perhaps fitting that we finished it with a run out by… guess who?
Mohideen, who had put on a few runs, cut the ball to Vicky at deepish point. Vicky swooped and fired the ball back to Asala who did the rest. The desperately lunging batsman was still prone on the pitch as the Sharks went into high velocity, high volume, high voltage close compact celebrations.

What is large, roundish, mostly white polyester in body with bits of red and green, has eleven heads, twenty-two legs and bounces round a cricket field? (I mean, really, grown men should not act like that!) It was deafening and it was redemption for Dhugal, who finally came out on the winning side against the Wombats, and the same for the other senior Sharks. The new players also rejoiced in being part of what was a very comprehensive spanking of a keen rival.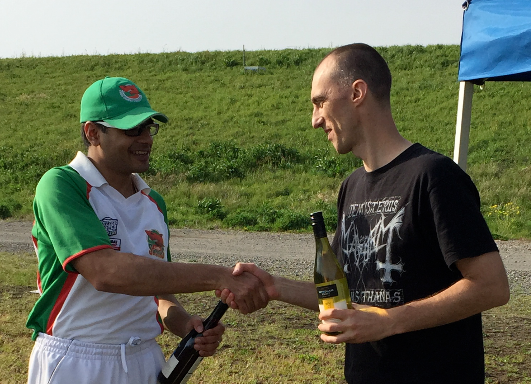 We had looked in trouble with only 132 runs to play with. Still, we have done worse in the not too distant past. It was a great display of restraint by Sankar. Doogs asked him to stick and stick he did. Doogs himself looked set and played some lovely shots, but two un-Bedingfield-like innings so far in 2015 means some team will pay dearly later. Asala looked assured and steady in the middle. The author scored a run. The field was sharp, and if under-worked, it was certainly not complacent as two run-outs show. The bowlers were fantastic. It is the best I have seen Vicky bowl. Many of the dots were zipping through to Asala (who did a great job behind the stumps) untouched, though batsmen tried their best. He looked likely to take a wicket almost every ball. He was well-supported by Adit, Hassan and Vivek. It shows how good they were when none of Dhugal, Awal or Sankar were needed!
Thank you to the Wombats for the game and their presentation to Vicky. To those Wombats reading – don't count on it taking us another five years for our next win! Thank you to the umpires. There were a lot of LBW shouts today and with two very determined, focused and loud teams like Sharks and Wombats it is not easy. The Wombats would not like this at all, and it will probably rekindle our respective battle bonfires – good stuff! Finally, KB later realized that he is the only Shark player in history to feature in both wins over the Wombats. This fact needs to change!