JCL2: Sano 2nd XI vs Sharks 2nd XI at Tanuma
12 Apr 2015. By Anton Lloyd-Williams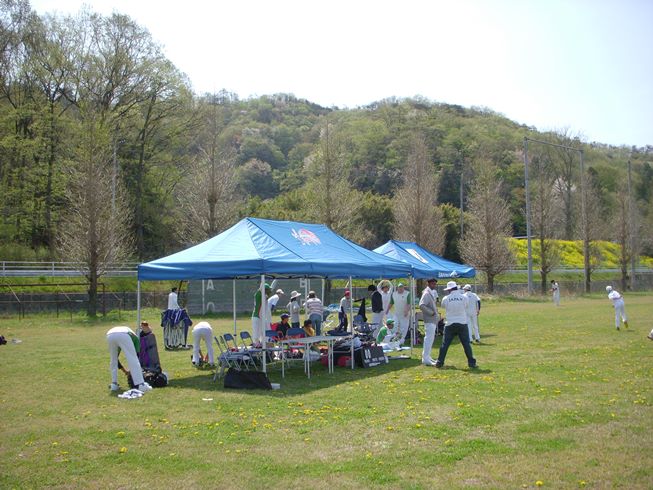 There was something of a tired air hanging over Tanuma this hazy Sunday morning. The last of the cherry blossom dangled wistfully from the branches, the decaying petals fluttering down the deserted road in front of the school, landing in the sullen puddles. Very quiet and very still. It was as if Tanuma had overdone it last weekend with the nailbiter between the Sharks 1st XI and Wyverns. Tanuma was hung over. Even the ground was an odd hue of yellowy greeny grey. The Sharks 2's had an unusual look about them too: A few new players; Asala, Yu and Hiroto. A few creaking veterans; Anton, CT and Mairaj. Some refugees from the 1st XI; Takady and Dave with Sankar, Sayeed and Marcus making up the XI. As the team drifted in, the banter picked up and the sun came out. Tanuma was waking up for another cracker of a match.
Camp Shark was soon assembled and CT wasted no time in losing the toss. He was invited to bat anyway. As Sano, sporting a couple of genuine children in their ranks, took to the damp, spongy outfield, Skipper Thurgate reminded everyone to enjoy themselves and have fun. But fun is more fun when you win. Before anything though an appallingly sung rendition of Happy Birthday rang out for Sayeed's charming wife Sara who had chosen to spend her special day in the Scorer's tent and dish out some pre-match chocolate cake.
Batting
Sankar and Dave were picked to open. The initial dueling between bat and ball was cagey as the pitch played in its normal sticky way with the ball unwilling to come on. Sankar looked to stay within his comfort zone while Dave looked to knock himself into some form with a bit of beefy driving.
Sano unleashed their secret weapon early in the form of Makoto Kubota (he of JCA fame). After spraying the ball on and around the opposite end of the track he found a straight one at which Dave drove magnificently. The bat described a fluid arc from shoulder to shin, just doing enough to avoid the ball along the way, leaving his off peg asunder. Makoto's primeval roar showed he was elated. Dave's silence showed he wasn't. While the scorer's tent discussion inevitably turned to the rise and fall of the Ginger Empire, Takady strutted out looking tight and pumped.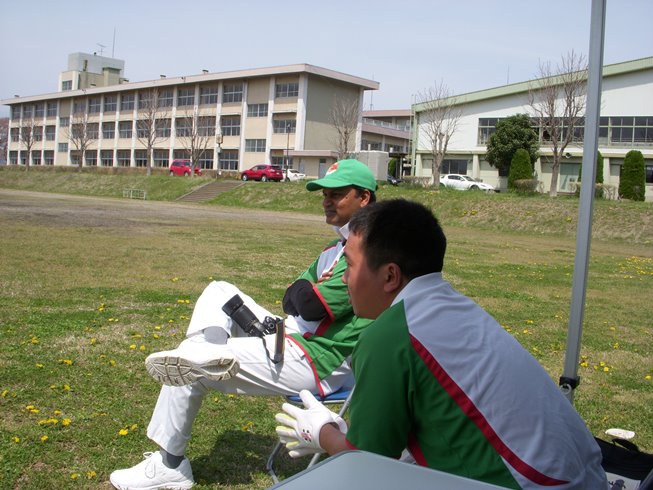 He set about the bowling in his usual bustling way; stout defence mixed with powerful cuts to the boundary. Meanwhile Sankar, looking more and more assured, pushed and edged the ball through the cordon for a hatful of singles. These two moved the scoreboard along in this way, scoring off most balls by taking the single when it was there rather than trying to manufacture risky boundaries. It was most unSharklike in a way. It was proper cricket.
The ball occasionally stuck in the pitch and was lauched skyward only to be shelled by an inexperienced fielder. Both batsmen had a few lives but hustled an extra 72 runs into the book with solid batting. At 15 overs bowled the score was 92 for 1. A change was in the air though. Throughout the morning there had always been the odd ball that had skidded through and Takady was undone by one from Goka, edging it behind to Fukumoto in the gloves. It was a pretty good knock from a player searching for a bit of batting form.
Anton came in at four and played a ragged bunch of shots, mostly skied and dropped, for another burst of comfortable singles. Communication between the wickets was not great though and the inevitable run out occured shortly after. Unfortunately the victim of Kano's excellent return throw was Sankar at the batsman's end. It was a shame because he was just moving up into Boundary gear. Drinks taken at this point at 110 for 3
Young Marcus Thurgate arrived at the crease and immediately showed his more gifted (in years) partner how to drive, defend and leave the ball when one first comes in. Anton, always willing to learn, skied a few more (to shaky hands luckily) before Marcus' example finally sank in. However, a crudely attempted leave of a decent Miyaji outswinger caught the end of the bat and found the stumpers glove. Sod's law.

Not to worry though, Marcus was looking at ease at the crease and started to play his shots. Joining him was Mairaj who knows how to hang around and let the fireworks go off at the other end. Now, most Sharks know that Mairaj is not really built for speed. In fact he is one of several more senior Sharks who can effortlessly turn an easy 2 into a cheeky single. Somehow this fact had escaped young gazelle Marcus who went bolting off for a run and met Mairaj looking for second gear right down at the other end of pitch. Mairaj was run out.
A fine pair of Thurgates, one at each end now. A Chris T Howitzer innings could quite easily see us up to 250 so it was time for the father to show the son what batting was really all about. The lesson lasted all of two balls however as another one stuck in the pitch and skied out to Miyaji at Mid Off who held on well.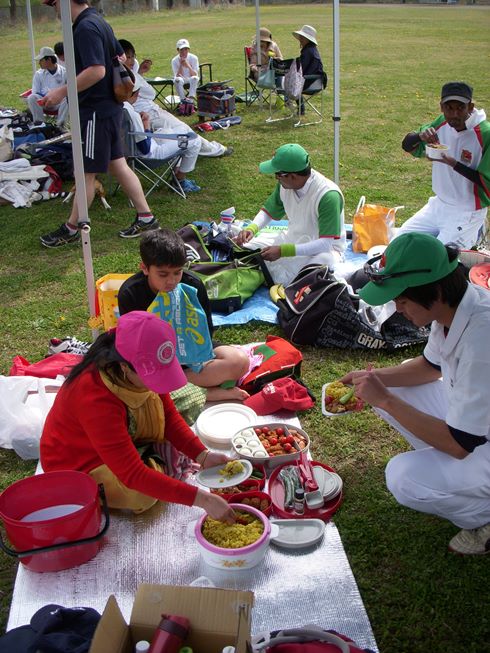 Well that wasn't in the script but then neither was Sayeed's masterclass in shock and awe hitting that took all of one ball to get going. Powerful swipes saw the ball race through the covers while the leg side fielders had a busy few overs getting the ball back from the long boundary grass. Marcus followed him almost shot for shot playing some beautifully timed cuts over the infield for fours. It was difficult to choose the shot of day; Sayeed's gargantuan drive back over the bowler's head or Marcus' sumptuous pull over Mid-Wicket? The excitement got a bit too much for Marcus though and he was stumped sharply while looking to set up a big drive. It was an outstanding innings by the youngster that drew praise from all corners and got him a standing ovation from his comrades in the tent. Sharks at 169 after 32 overs.
Asala took up position at the crease and soon had fours appearing in the scorebook again with a succession of controlled drives through the V. Nothing hurried, nothing airborne. With Sayeed and Asala in this kind of form, a final flurry of runs could still see us get 250. However the wheels fell off the Shark Juggernaut in unexpected fashion.
First, Sayeed misread an odd looking looper from Kano and was given LBW. He looked pretty bemused at it. With the inexperienced Yu at the other end, Asala looked to move things on himself and belted a short one out of the middle of the bat high over deep square leg. There was a fielder out there but easier catches had been going down all afternoon. Not this one though. An excellent catch from Iwasaki, right on the rope, spelled doom for the Sharks tail. Yu and fellow debutant Hiroto hung around well for a couple of overs before Yu cut one to point and the innings came to a close on 199 in the 35th over. Time for lunch and what a lunch it was! Mrs. S had prepared a hamper of sub-continental delicacies. Very spicy and very delicious.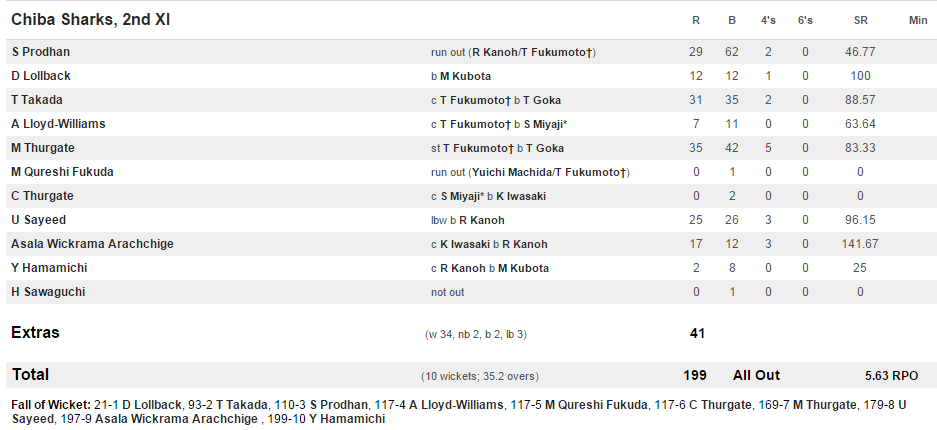 Bowling/Fielding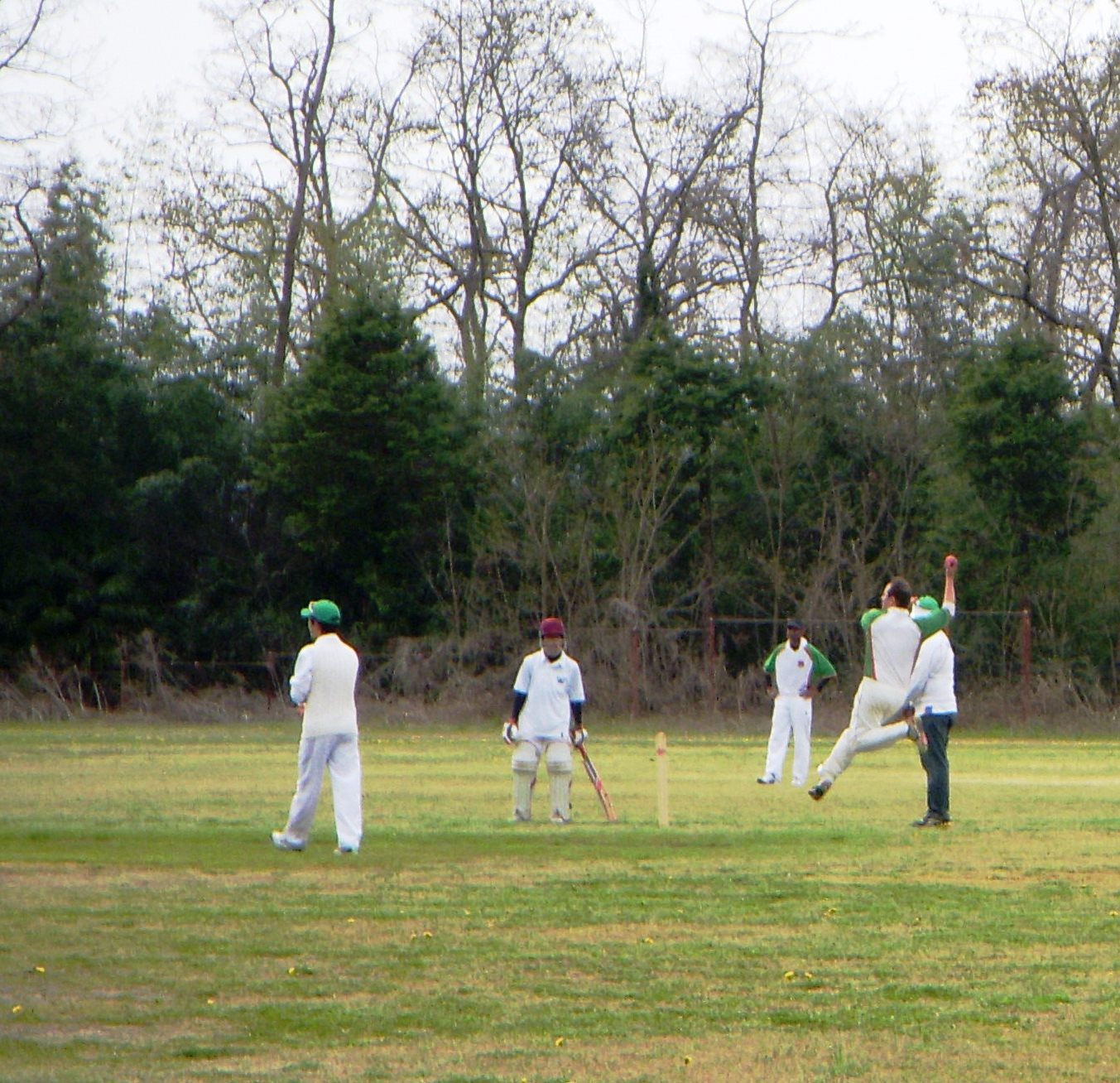 199 on the board and Sano looking, dare I say, a little thin on batting stocks. Raheel Kano would no doubt be a dangerman but who would stick around with him? To find out, CT gave the new cherry to Mairaj and Sayeed. Mairaj took his obligatory wide as a sighter and then sent down a tricky looking maiden which was met with a dead bat. Sayeed went for pace but hadn't switched his radar on. The ball went all the over place inviting hope that the batsman might be surprised by one that landed on the pitch and do something rash. Mairaj then took a bit of a pasting and the wides column was fizzing, so Skipper Thurgate switched to tried and tested military mediums from both ends in order to regain a bit of control. Sankar and Anton shared the next ten overs and it was in these that the damage was done.
Anton bowled full and into the pads down the hill while Sankar bowled a good length at off stump up it. Dot balls began to accumulate while the extras column took a well deserved rest. A few lbw shouts (one of them a plum one, truth be told) fell on unconvinced ears but they had the desired effect. The batsmen got edgy and as edgy batsmen are wont to do, they went for a suicidal single. The swift arm of Asala, running in from mid wicket, found Machida short by a good yard and the Sharks attack was underway.
While Anton kept one end reasonably tidy, Sankar picked out his batsmen like a pro darts player. Unerring accuracy saw the ball swing into the right handers on a good length before clipping top of off and down the wickets tumbled, often in pairs. It would be fair to say that some of these wickets were of very junior players, but the quality of the bowling would have accounted for many a senior scalp too.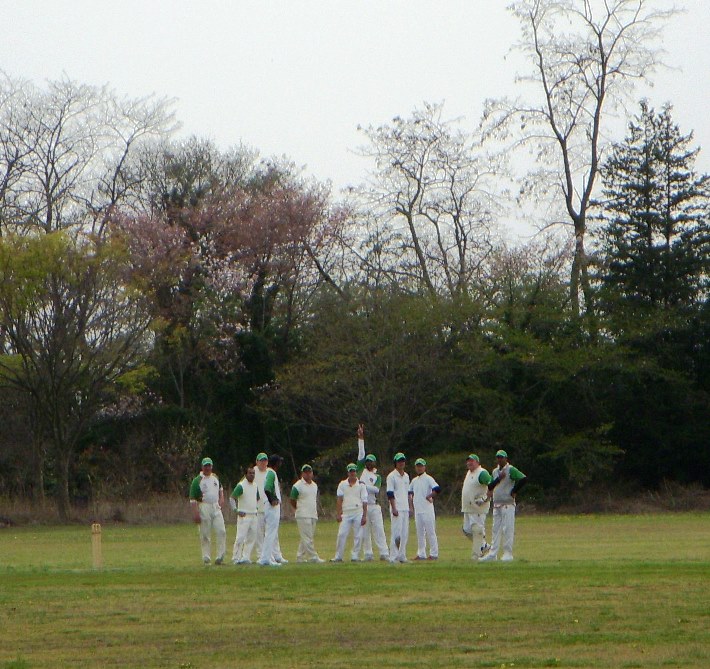 When Kano holed out to Dave in the deep at long on with the score at 81, the writing was on the wall for Sano. Frustratingly though, with the pressure off, the Sharks field went into a mass coma. Returns went nowhere, balls went under slowly diving bodies and the scoreboard woke back into life. It took a sharp word from the Skipper and the silver tongued Dave Lollback to shake up the side and get things back on track.
New faces Yu and Hiroto both had a bowl and looked raw but handy, Yu showing decent pace and Hiroto finding a good line past the bats edge. These two should make an impact in the 2nds this season.
Marcus added to his stock by taking an excellent tumbling catch at extra cover while CT stumped Ida as he was looking to hit his way out of trouble. Young Goka proved to be a tough nut to crack, dead batting anything that came near him, including some well flighted Asala tweakers. He was guided excellently by the experienced Miyaji who showed her National Team pedigree. However she had a torrid time dealing with Marcus' superb leg-breaks and eventually swatted Mairaj to Takady at cover point to end the innings. All done for 141.

This was just the second time since its inception two years ago that the 2nd XI had won a match and it felt good. Both sides put out a lot of new, young faces which bodes well for the future of the game in this country. Many thanks to Sano for the match, to Chula for his excellent umpiring and to Dave for acting as Match Organiser.