JCL1: Sharks vs Wyverns,
Tanuma, 04.04.15.
By Asala Wickrama Arachchige and Kris Bayne
In memory of Ritchie Benaud.
The indoor was done. Congratulations Rising Stars! The World Cup was over. Congratulations Australia! We had a good first training session. Congratulations Sharks! Now it was time for the REAL stuff. We faced Wyverns in our JCL opener with a team featuring a lot of Shark debutants. Sadly we came off the worst in a close game.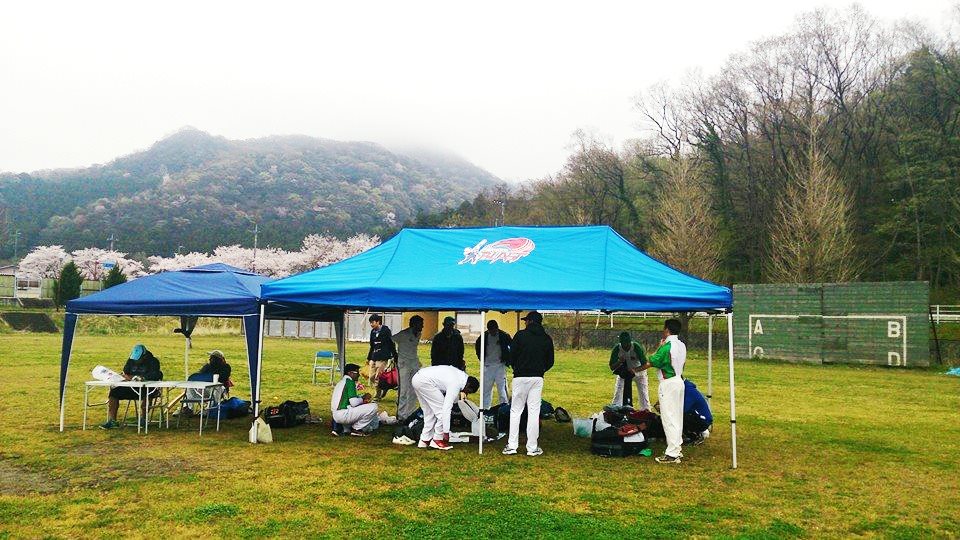 Our team for today was bursting with new Sharks from all points of the compass, keeping up the Shark reputation as the most international team, perhaps of any sport, in Japan. And here they are: Dhugal 'Doogs' Bedingfield (c) (Aust.), 'Vicky' Sancheti (Ind.), 'Murad' Kazi (Bang.), 'Sumon' Haque (Bang.), Aditya Tallapraganda (Ind.), Awal Hosen (Bang.), and debuting, Paul Grant (Aust.), Asala (Sri L.), Vivek (Ind.), 'Hassan' Tahir (Pak.), and Brian Burns ( Aust.).
Fielding
It was raining slightly when the match started. It was a bit of a disadvantage for us to bowl first because ground was a bit damp. The ball got wet and damaged by the time we got through four or five overs. There were five new Shark players giving us a possible nine bowlers. Aditya and Vicky started the innings and the Sharks were on fire with the Wyvern's first wicket falling on 19. In fact, Adit started the season off well accounting for the first three batsman to have Wyverns 3-53.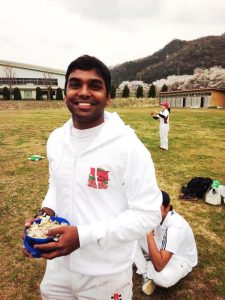 Their middle order steadied somewhat, but at the same time the Sharks were able to pick up wickets as well, Vivek chipping in with Ohta's scalp. It took us bit longer to get the Wyverns 6th wicket. Wyvern veteran (and one-game indoor Shark) Yoshi Uehara and new face, Nanayakkara, fought back even under strong pressure from the Sharks. However, the Sharks never gave up. We ran through most of the bowlers to get both a look at them and get wickets. Vivek nailed another vital wicket and Paul removed the obviously dangerous Nanayakkara but some of the remaining bats were able to get into double figures.
Unfortunately we dropped several catches, among them some pretty hard ones. The ground was slippery and as a result of that many of Sharks slipped while trying to get a catch or chasing the ball trying to stop boundaries. But under great captainship the Sharks got right back up and back into the game. As a team we were in great spirits throughout the game till the end. Sharks were able to get all the Wyverns out for 207 with seven overs to spare.

Batting
With so many players turning out for the first time, batting was perhaps a bit of a mystery, though some had shown very promising efforts in the indoor or training. Brian and Murad started off the batting innings. Our first wicket, Murad, fell at 22. Sharks then lost three wickets within 8 overs. We were in trouble at 3-36 when Dhugal went cheaply but Sharks were able to pick it up and started making runs.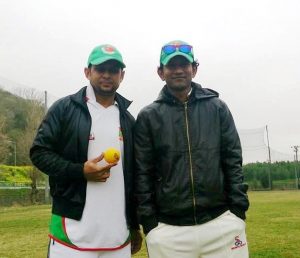 In very similar fashion to Wyverns some partnerships evolved in the middle order. Paul and Asala added 36. After the 6th wicket fell, Hassan came to bat and quickly let loose. He started to hit sixes and boundaries and made singles running between wickets like crazy. Paul and Hassan got us past 100. Our best effort was then Hassan and Vicky who added 72 valuable runs.
Hassan passed his 50 on debut and while he and Vicky were at the crease it probably looked like we would haul the total in. Disastrously Hassan was run out and Vicky soon followed on 174. Still 36 short. Vivek and Adit kept pushing hard and making runs towards the target. We ended up short, however, running out of balls and making 193 in 40 overs.
As the scorecards will show it was a very even contest throughout the day, with the batting being uncannily similar in how it progressed. We were about even on giving up extras. Wyverns fielded a very strong team and seems to have secured a talented all-rounder in Nanayakkara, who top scored and took 4 wickets. It was very pleasing to see that many of the new Sharks stepped up with both bat and ball. All of our debutants got into double figures with the willow, which is encouraging (and embarrassing)!! Brian 17, Hassan 54 and one wicket, Paul 23 and 2 wickets, Asala 27 and four tight overs, Vivek a late-order 11 and 2 key wickets.
Vicky and Adit bowled well. We were missing quite a number of regular 1sts players so if we can get our 'best' side out it will first be a big test for the selectors and a bigger one for the opposition. So, we lost this one but the signs for a good year for the Sharks club teams (plural) are there, for sure!
Next up for the 1sts are the Wombats. No need to say how big this game is for us. But for new guys, think Ashes, think India-Pakistan, think Essendon-Collingwood, think Frazier-Ali. Let's start our winning ways this year with a Wombat pelt.